Boulevard
Business management software for salons and spas
En savoir plus sur Boulevard
Boulevard is a cloud-based software designed to help salons and spas of all sizes manage bookings, appointments, payments, check-in and out, memberships, sales, and more on a unified portal. The platform enables organizations to define custom rules for scheduling tasks, staff permissions, service categories, and pricing across multiple products, brands, and locations.
Boulevard allows front desk administrators to handle walk-ins and capture customers' contact information via the iPad application and send alerts with arrival time to the assigned service professional. It offers a host of features such as credit and debit card processing, waitlists, appointment confirmation notifications, group booking, tagging, refunds management, barcode scanning, timeclock, and more. Salons can also create, launch, and run marketing campaigns to promote products, categorize clients, and request ratings and feedback.
Boulevard lets managers generate, export, and share reports to gain insights into business performance, client retention, gross sales, tips, utilization of resources, and other metrics. It also supports integration with various third-party client relationship management (CRM) and enterprise resource planning (ERP) systems via API.
Options de tarification dès :
175,00 $US/mois
Version gratuite

Essai gratuit

Abonnement
Les 5 meilleurs logiciels similaires à Boulevard
Boulevard - Principaux avantages
• On-brand client experience
• Reach out to past-due clients through text, email, or social media
• Keep staff connected with Boulevard's mobile app
• Flexible permissions to compliment staff responsibilities
• Fast, secure, and 100% zero system downtime
Clients types
Auto-entrepreneurs

Petites entreprises

(de 2 à 50 employés)

Moyennes entreprises

(de 51 à 500 employés)

Grandes entreprises

(500 employés minimum)
Déploiement
Basé sur le cloud

Sur site
Disponible dans les pays suivants
Options de tarification dès :
175,00 $US/mois
Version gratuite

Essai gratuit

Abonnement
Les 5 meilleurs logiciels similaires à Boulevard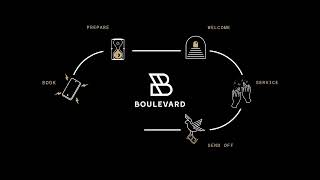 Nombre total de fonctionnalités pour Boulevard : 79
API
Accès mobile
Alertes/Notifications
Analyse de l'évolution des ventes
Base de données de clients
Base de données de clients
Booking Management
Caisse pour détaillant
Carte de fidélité
Comptes clients
Confirmation et rappels
Contrôles/Permissions d'accès
Emplacements multiples
Enquêtes clients
Fonction de glisser-déposer
Formulaires personnalisables
Gestion de l'e-commerce
Gestion des bons de commande
Gestion des calendriers
Gestion des cartes cadeaux
Gestion des clients
Gestion des commandes
Gestion des commentaires
Gestion des commissions
Gestion des e-mails
Gestion des employés
Gestion des factures
Gestion des remises
Gestion des rendez-vous
Gestion des retours
Gestion des reçus
Gestion des réservations
Gestion des stocks
Gestion des stocks
Gestion des stocks de la vente au détail
Gestion des taxes de vente
Gestion des transactions
Gestion des éléments
Historique des clients
Historique des transactions
Importation et exportation de données
Intégrations de tiers
Lecture de codes-barres et de tickets
Messagerie SMS
Mesure des performances
Notifications en temps réel
Paiements en ligne
Paiements électroniques
Planification
Planification automatisée
Planification des groupes
Planification des installations
Planification des rendez-vous
Planification des ressources
Planification du personnel
Planification en temps réel
Point de vente (PDV)
Portail libre-service
Pour barbershops
Pour les spas médicaux
Pour salons de beauté et les spas
Profils client
Programmation des tâches
Rappels
Rappels par e-mail
Rapports de ventes
Rapports et statistiques
Rapports personnalisables
Rendez-vous récurrents
Réservation de chambres
Réservation en ligne
Signature électronique
Stratégie de marque personnalisable
Suivi de l'inventaire
Synchronisation du calendrier
Tableau de bord d'activités
Traitement des cartes de crédit
Traitement des paiements
e-mail marketing
Timely
Alternative n° 1 à Boulevard
Timely est un logiciel pour instituts de beauté, spas et centres de bien-être parmi les plus intelligents au monde....
Mangomint
Alternative n° 2 à Boulevard
Mangomint est un logiciel de gestion de salon et de spa conçu pour aider les salons indépendants, les spas, les studios...
Jade ThirdEye
Alternative n° 3 à Boulevard
Jade ThirdEye is an automated money laundering software that helps businesses identify high-risk customers, monitor...
Rosy
Alternative n° 4 à Boulevard
Rosy est une solution web destinée aux propriétaires de salons et de spas, qui permet de créer des pages web personnalis...
---
Vous avez déjà Boulevard ?
Les acheteurs de logiciels ont besoin de vous ! Les avis utilisateurs nous aident tous à prendre de meilleures décisions.
5 avis affichés sur 218
Boulevard - FAQ
Voici quelques-unes des questions fréquentes sur Boulevard.
Q. Quels sont les types de licence disponibles pour Boulevard ?
Types de licences disponibles pour Boulevard :
À partir de : 175,00 $US/mois
Type de licence : Abonnement
Version d'essai gratuite : Non disponible
Boulevard is available across three pricing models, details of which are outlined below: Essentials - $175/month Premier - $225/month Enterprise - Contact Boulevard for pricing details.
Q. Qui utilise Boulevard ?
Utilisateurs habituels du logiciel Boulevard :
2-10, 11-50, 51-200, 201-500, 501-1 000, 1 001-5 000
Q. Dans quelles langues Boulevard est-il disponible ?
Langues dans lesquelles Boulevard est disponible :
anglais
Q. Boulevard prend-il en charge les appareils mobiles ?
Appareils pris en charge par Boulevard :
Android (mobile), iPhone (mobile), iPad (mobile)
Q. Avec quelles applications Boulevard peut-il s'intégrer ?
Applications s'intégrant à Boulevard :
Google Calendar, Mailchimp, NetSuite, Okta, TrueLark, Vish, Zapier
Q. Quelles sont les ressources d'aide disponibles pour Boulevard ?
Ressources d'aide disponibles pour Boulevard :
Service client/e-mail, FAQ/forums, Support 24/7 (réponse directe), Chat
Catégories connexes
Consultez toutes les catégories de logiciels trouvées pour Boulevard.