WellnessLiving
Gestion d'entreprise pour le secteur de la santé et du bien-être
En savoir plus sur WellnessLiving
WellnessLiving est une solution de réservation, de planification des ressources, de génération de leads et de reporting en ligne tout-en-un pour les entreprises axées sur la santé et le bien-être. Conçu pour les établissements de bien-être, y compris les studios de yoga, les spas, les salons de coiffure, les salles de fitness, les studios de Pilates et les clubs de danse, WellnessLiving fournit les outils dont les utilisateurs ont besoin pour gérer leurs tâches professionnelles quotidiennes, les employés, les adhésions, les ventes, les opérations de marketing, etc.
L'expérience client frontale permet aux clients de réserver des cours ou des traitements en ligne via les applications mobiles natives Android et iOS, Facebook ou directement via la liste de répertoires WellnessLiving.com générée automatiquement. Les clients peuvent utiliser l'application mobile WellnessLiving pour prendre rendez-vous, payer des services et rédiger des avis, ainsi que partager leur expérience sur Facebook. Une fois les réservations effectuées, des notifications et des confirmations sont automatiquement envoyées aux clients et au personnel par SMS ou par e-mail et la communication post-réservation est facilitée par la fonctionnalité SMS.
À partir du backend WellnessLiving, les employés et la direction peuvent gérer les horaires des cours ou des événements en synchronisant les données sur toutes les plateformes afin qu'ils soient toujours à jour. Les utilisateurs peuvent créer leur boutique en ligne à l'aide de l'assistant WellnessLiving et commencer à vendre en ligne instantanément grâce à une fonctionnalité de point de vente qui facilite le traitement des cartes de crédit, les paiements récurrents et les fins d'adhésion automatiques. Les employeurs peuvent également utiliser des outils de gestion du personnel pour planifier les quarts de travail, gérer les salaires, suivre les performances des employés, calculer la rémunération, etc.
---
Images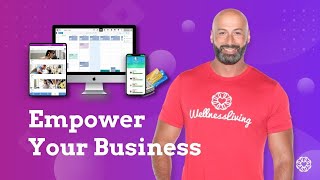 WellnessLiving ne vous convainc pas tout à fait ?
Comparer avec une alternative populaire
Indisponible dans votre pays
Prix
Version gratuite
Version d'essai gratuite
Intégrations
7
Intégrations introuvables
Meta for Business
Alternative n° 1 à WellnessLiving
La mission de Facebook est de donner aux gens le pouvoir de partager et de rendre le monde plus ouvert et plus connecté.
Square Virtual Terminal
Alternative n° 2 à WellnessLiving
Square Virtual Terminal est un logiciel basé sur cloud qui aide les entreprises à traiter et à accepter différents...
Mariana Tek
Alternative n° 3 à WellnessLiving
Mariana Tek est un outil de prise de rendez-vous qui aide les enseignes de fitness à gérer le marketing, la communicatio...
ClubWorx
Alternative n° 4 à WellnessLiving
Clubworx est une solution modulable de gestion des clubs de sport (et un fournisseur de sites web professionnels) pour...
---
Vous avez déjà WellnessLiving ?
Les acheteurs de logiciels ont besoin de vous ! Les avis utilisateurs nous aident tous à prendre de meilleures décisions.
5 avis affichés sur 408
Logiciel utilisé

tous les jours

pendant

6 à 12 mois

Provenance de l'avis
Note globale
Rapport qualité-prix

Simplicité d'utilisation

Support client
While excited about the capabilities of the system, honestly, I was scared to transition.
Publié le 02/12/2017
Avantages
Wellness Living incorporates all of the same functionality from my old system in an innovative, visual, intuitive way AND includes the functionality I had to pay extra for! I love the ease of managing schedules, adding clients, enrolling clients in classes and maintaining client information. The integrated rewards program and review process are fantastic. My staff required very little training because of the ease of use and visual nature of the system.
My clients also find the system as well as the app intuitive and easy to use. Booking classes is quick and straightforward and they can manage their own account data. They love the integrated rewards program.
Each Wellness Living team member I encounter always answers my questions and works diligently to resolve any issues I have. I love that pictures of the team are posted on the website . I like being able to put a face with a name when I speak with someone on the phone.
Since converting to Wellness Living I have cut costs, reduced the time spent maintaining the backend system, improved customer experience and increased the number of walk-in clients to classes. I am happy to be a Wellness Living Partner and highly recommend the Wellness Living Business Management Solution and the team. It has been over 6 months since I cut the cord from MindBody and I couldn't be happier with the Wellness Living business management system.
Inconvénients
While there were some glitches in the move, I was supported by the On-Boarding support team through the migration and well after while we resolved issues. Every part of the transition and data migration was manageable. The support staff from On-Boarding calmed my fears -
he was with me from start to finish and personally made sure that any and all errors were immediately corrected.
Further, as I continue using Wellness Living, problem reports are addressed as a priority. Requests for enhancements are taken seriously and documented so that I can see the progress. If I have questions regarding functionality, I am never merely directed to documentation. A technical specialist often sends a video of the process along with a description of the process.
Réponse de WellnessLiving Systems
Hi Jennifer! Thank you so much for your kind review and for deciding to switch to WellnessLiving. We know how intimidating the process of changing software can be, which is why our team works so hard to make that transition easy on you. We also put a lot into ensuring that everything you need to run a fitness studio like yours is available in the program, so we are delighted to hear that you, your staff, and your clients have found such success with our features after only six months. Cheers to a great first year together!
Secteur d'activité : Services et installations de loisirs
Taille de l'entreprise : 2–10 employés
Logiciel utilisé

tous les jours

pendant

plus de deux ans

Provenance de l'avis
Note globale
Rapport qualité-prix

Simplicité d'utilisation

Support client

Probabilité de recommander le produit

10.0

/10
Grateful for Wellness Living
Publié le 25/01/2023
Avantages
I really appreciate how robust the platform is without it being too complicated to navigate.
Inconvénients
As with all softwares, it doesn't always do exactly what I'd hope for it to. I also find that some members have challenges navigating the software for anything other than classes. (ie. appointments, special events, etc.)
Réponse de WellnessLiving Systems
Thank you for the amazing review Lisa. It's great to have the peace of mind knowing that your business software is easy to use for everyone on your staff and for your clients, even if they're not tech savvy. It's true that some of the other software platforms like Mindbody have a lot of the features we have, but the problem is that they're very complicated to use! You have to spend hours on end learning the ins and outs and then training your staff members. Then you have the same problem teaching your clients and helping them with their bookings and managing their accounts! WellnessLiving is a lot newer and specifically designed for ease-of-use, so that means less of your valuable time spent working on your software and more time with your business. I see you mentioned some challenges with appointments or special events and I am really interested in knowing how we can improve our software for your business. The reason I ask, is that for years now we've been building features into the software based on what our customers have been requesting and I'm wondering if this may be something we can help with too. There's no cost for this but we do it to help make our software better, which helps your business succeed and that helps us grow. Whenever you have a few minutes this week please head onto our Community Forum (adding a link below) or send us an email to support@wellnessliving.com and I'm really confident we can provide some solutions for you. Thanks for choosing WellnessLiving, Lisa!
Aiden P. (Customer Advocate)
https://community.wellnessliving.com/page/home/
Secteur d'activité : Santé, bien-être et fitness
Taille de l'entreprise : 2–10 employés
Logiciel utilisé

tous les jours

pendant

plus de deux ans

Provenance de l'avis
Note globale
Rapport qualité-prix

Simplicité d'utilisation

Support client

Probabilité de recommander le produit

0.0

/10
Extremely unreliable and Very glitchy
Publié le 04/01/2023
My companies overall experience has been terrible. While there are some things we like about...
My companies overall experience has been terrible. While there are some things we like about Wellness Living, the bad WAY outweighs the good. We have significant problems on a monthly basis. It is literally a thorn in my office managers and my staffs side. The whole point of going with a software like this was to make my life easier not worse. We've been using Wellness Living for 3 years now. I've stuck with it this long because it is such a massive undertaking to switch to a new system. We've put so much time and effort into moving to Wellness Living and we've tried to make it work for us and live with the unreliability. The issues we've had this week are the last straw though. We are actively looking for another company to switch to. I'm not looking forward to the massive undertaking it will be to switch to another company, but we just can't deal with how unreliable Wellness Living is anymore.
Avantages
I like the idea that it has the potential to streamline and consolidate a lot of moving parts that a business has into one place. Unfortunately it just isn't very good.
Inconvénients
I can't count the amount of hours my office manager has to spend "fixing" things gone wrong on a near weekly basis. The software is extremely glitchy. We have customers being charged for things without their consent even after we have canceled recurring memberships, etc. My staff absolutely hates the mobile app. It is not user friendly at all and constantly has glitches. Customer service is horrendous. When you finally get the opportunity to talk to a real person on the phone you are likely to get nowhere. If you are fortunate (which is rare) you may be able to get someone on the phone that you can actually verbally understand. When this rare thing happens, you can actually get some issues solved.
Pourquoi passer à WellnessLiving
They promised a great software and experience. Turns out they talk a big game but provide a product that is unreliable.
Réponse de WellnessLiving Systems
Hi Chris,
I am so sorry this has been your experience. One of the things we focus on at WellnessLiving is the customer support, which is hugely important for anyone running their business through a software platform. If you've seen some of our other reviews, we're one of the top rated software providers not because things always go perfectly smooth but because we're all about supporting our customers and we don't quit until you have some great solutions. We actually encourage our customers to contact us any time they have a problem so we can provide assistance right away, often the fix is a setting in the software or in some cases it can be as simple as updating the user's device or web browser. I reviewed our records over the past year, unfortunately it seems we never heard from your business that you were having these issues but not to worry, we are committed to your success and I am fully available to help get you solutions right away. I left you a voicemail, if you could please call me back or alternatively respond on my email whenever you have some time and we can get on a call this week.
Sarah M. (Customer Advocate)
Secteur d'activité : Santé, bien-être et fitness
Taille de l'entreprise : 2–10 employés
Logiciel utilisé

tous les jours

pendant

6 à 12 mois

Provenance de l'avis
Note globale
Rapport qualité-prix

Simplicité d'utilisation

Support client

Probabilité de recommander le produit

10.0

/10
Website design
Publié le 07/06/2023
My overall experience with Wellness Living has been excellent. I highly recommend their services!
My overall experience with Wellness Living has been excellent. I highly recommend their services!
Avantages
The design team was extremely easy to work with. They listened to my wants and needs. I have over 260 pages that needed to be created and they completed the project weeks before I anticipated. Amazing!!!
Inconvénients
The change from Mindbody to Wellness Living was a little rough. I attribute much of it to the lack of experience my team had with this type of management software. Wellness Living's customer service was excellent it helped us work through our challenges.
Réponse de WellnessLiving Systems
Hey Chris,
Thank you for the amazing 5-star review. It's incredible to hear about your firsthand experience with Presence—our agency-style website design and management service. It's great to hear that our design team was a breeze to work with!
A lot goes into growing a fitness studio or gym, and your online presence sometimes gets overlooked. That's why we're so glad that Presence has become an integral part of your growth strategy. It's doing wonders for your search engine optimization (SEO) and helping you attract, convert, and retain more clients for the long term.
And, Chris, you'll be happy to know that we've made huge improvements to Presence recently, enhancing the design and user experience to make your website even more user-friendly. But that's not all—there's more to come! In the next few months, we'll be updating the functionality of Presence with features like Forms, FitVID on Demand, FitLIVE, and conversion-optimized booking flows. So, get ready for an even better experience ahead!
Switching to WellnessLiving and Presence was definitely a no-brainer, although it may have taken some time for you and your team to learn the software. But please know that we're here for you every step of the way. If you ever have any questions or need assistance, our Knowledge Base is a great resource to find answers and guidance. I've included the link for you here:
https://www.wellnessliving.com/knowledge-sharing/knowledge-base/
Thank you once again for choosing WellnessLiving. We're truly excited to be a part of your business's growth and online presence journey. If there's anything else we can do for you, please don't hesitate to reach out.
Aiden P. (Customer Advocate)
Secteur d'activité : Santé, bien-être et fitness
Taille de l'entreprise : 2–10 employés
Logiciel utilisé

tous les jours

pendant

1 à 5 mois

Provenance de l'avis
Note globale
Rapport qualité-prix

Simplicité d'utilisation

Support client

Probabilité de recommander le produit

8.0

/10
New User Feedback -
Publié le 14/11/2022
Great automation, simple and easy booking system with access for all my team. Easy to use a great...
Great automation, simple and easy booking system with access for all my team. Easy to use a great for client journey especially with the white label app which looks great! Lots of training, detailed onboarding and tech support whenever required. Had a fantastic session with my Business Advisor [SENSITIVE CONTENT] who gave load of tips I could put into action immediately to improve sales and client journey.
Avantages
Team set up data migration from the previous company, fantastic feedback on ease of use of app, so much functionality and automation. Starts to become intuitive after a while. I'm really liked how it can do all of my bookings, reports and create a full client journey. Everything is in 'real time'.
Inconvénients
So much still to learn, little errors when setting up can set me back but the customer support team have been great and advising and resolving everything! New clients who are not as tech savvy, try to sign up and get confused by clicking Facebook/Google to sign up as it the first thing they see. They forget their password/struggle and give up or phone me because they have miseed the 'Sign Up' call to action at the bottom - would prefer this to be the first prompt.
Pourquoi passer à WellnessLiving
I liked the app, very supportive discovery call, previous business used Wellness Living so easy transition for clients and data migration.
Réponse de WellnessLiving Systems
Thanks for the great review Sara! We're glad to hear you're having a good time with ease of use on the app and with the software. WellnessLiving not only provides the various tools you need for your day-to-day but importantly it combines them into a an intuitively packaged platform so it's simple to learn, and easy to switch from one feature to another. We've focused much of our tech development into the ease-of-use factor, and we continue to do regular updates to add little tweaks into the interface (in addition to adding new features) so that you can count on an experience that keeps improving over time. We even added a tool in a recent update (based on customers requesting the same option!) so you can omit the Facebook/Google sign up and have the main 'Sign Up' button appear first on the screen. Please don't hesitate to contact our Support team or ask our experts on the Community Forum, we'd be happy to help you enable that in Setup. Thanks for choosing WellnessLiving!
Natasha B. (Customer Advocate)
WellnessLiving - FAQ
Voici quelques-unes des questions fréquentes sur WellnessLiving.
Q. Quels sont les types de licence disponibles pour WellnessLiving ?
Types de licences disponibles pour WellnessLiving :
À partir de : 89,00 $US/mois
Type de licence : Abonnement
Version d'essai gratuite : Non disponible
Q. Qui utilise WellnessLiving ?
Utilisateurs habituels du logiciel WellnessLiving :
Auto-entrepreneur, 2–10, 11–50, 51–200, 201–500, 501–1 000, 1 001–5 000
Q. Dans quelles langues WellnessLiving est-il disponible ?
Langues dans lesquelles WellnessLiving est disponible :
anglais
Q. WellnessLiving prend-il en charge les appareils mobiles ?
Appareils pris en charge par WellnessLiving :
Android (mobile), iPhone (mobile), iPad (mobile)
Q. Avec quelles applications WellnessLiving peut-il s'intégrer ?
Applications s'intégrant à WellnessLiving :
Constant Contact, Google Calendar, Google Maps, Mailchimp, Meta for Business, Quickbooks Online, WordPress
Q. Quelles sont les ressources d'aide disponibles pour WellnessLiving ?
Ressources d'aide disponibles pour WellnessLiving :
Service client/e-mail, FAQ/forums, Base de connaissances, Support téléphonique, Support 24/7 (réponse directe), Chat
Catégories connexes
Consultez toutes les catégories de logiciels trouvées pour WellnessLiving.