En savoir plus sur Agiloft
Agiloft prend en charge des solutions prêtes à l'emploi pour le support client, le support technique interne, la gestion des contrats, le workflow et le BPM, ITL et ITSM, la conduite du changement, la gestion des actifs, la gestion des projets et des tâches, la gestion des documents, le traitement RMA, la facturation informatique et la génération de licences. Très apprécié par les utilisateurs et les analystes et lauréat du prix "Meilleure valeur globale" d'Info-Tech pour la troisième année consécutive, Agiloft Help Desk est en tête du classement. Agiloft Help Desk s'adapte à votre style de service pour fonctionner comme vous le faites et non l'inverse. Améliorez l'efficacité de votre organisation en résolvant plus rapidement les cas d'assistance et en augmentant la cohérence, tout en obtenant des informations exploitables.
Les clients disent que les solutions concurrentes ne peuvent suivre. Inclut un portail libre-service personnalisable, un moteur d'automatisation de flux de travail, des mesures de performance de tableau de bord, etc. Automatisez les tâches et augmentez l'efficacité du personnel dans l'ensemble de votre entreprise. Utilisez Help Desk seul, en association avec Agiloft Service Desk Suite ou avec d'autres applications Agiloft. Disponible en solution cloud hébergée ou en déploiement interne. Utilisé par plus de 3 millions de professionnels dans les start-up de sociétés Fortune 100. Commencez dès aujourd'hui et voyez la différence qu'une véritable agilité commerciale peut apporter.
Options de tarification dès :
65,00 $US/mois
Essai gratuit
Version gratuite
Abonnement
Comparer avec les alternatives populaires
Disponible dans les pays suivants
États-Unis
Options de tarification dès :
65,00 $US/mois
Essai gratuit
Version gratuite
Abonnement
Comparer avec les alternatives populaires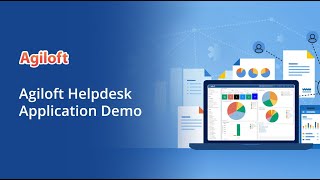 Nombre total de fonctionnalités pour Agiloft : 110
API
Accès hors ligne
Achats et réceptions
Actions découlant d'un événement
Affichage dynamique
Alertes et remontée des problèmes
Alertes par e-mail
Alertes/Notifications
Analyse des tendances
Analyse visuelle
Archivage et rétention
Authentification unique
Base de données de clients
Champs personnalisables
Chat en temps réel
Chat et messagerie
Codes-barres et RFID
Communication multicanal
Configuration des workflows
Contrats formalistes
Contrats gouvernementaux
Contrôle du processus d'approbation
Contrôles/Permissions d'accès
Côté achat (fournisseurs)
Côté vente (clients)
Données en temps réel
Enquêtes et feedback
Fonction de glisser-déposer
Formulaires personnalisables
Gestion de cycle de vie des contrats
Gestion de l'amortissement
Gestion de la base de connaissances
Gestion de la configuration
Gestion de la conformité
Gestion de la disponibilité
Gestion de projets
Gestion de versions
Gestion des accords de service
Gestion des achats
Gestion des affectations
Gestion des audits
Gestion des billets
Gestion des calendriers
Gestion des centres d'appel
Gestion des cessions
Gestion des changements
Gestion des contacts
Gestion des contrats/licences
Gestion des demandes
Gestion des documents
Gestion des dossiers
Gestion des e-mails
Gestion des fichiers
Gestion des flux de travail
Gestion des formulaires
Gestion des fournisseurs
Gestion des incidents
Gestion des listes d'attente
Gestion des modèles
Gestion des problèmes
Gestion des rendez-vous
Gestion des ressources informatiques
Gestion des sous-traitants
Gestion des stocks
Gestion des tickets de support
Gestion des tâches
Gestion des versions
Gestion du cycle de vie
Génération de documents
Importation et exportation de données
Intégration des répertoires actifs
Intégrations de tiers
Lecture de codes-barres et de tickets
Messagerie SMS
Messagerie instantanée
Modèles de documents
Modèles personnalisables
Modèles prédéfinis
Monitoring
Monitoring réseau
Outils de collaboration
Piste d'audit
Portail client
Portail des employés
Portail libre-service
Prise en charge de plusieurs langues
Prévision
Rapports et analyses
Rapports et statistiques
Rapports personnalisables
Recherche en texte intégral
Recherche/Filtre
Routage automatisé
Rédaction de contrats
Sauvegarde automatique
Signature électronique
Stockage de documents
Stratégie de marque personnalisable
Suivi de la conformité
Suivi de la progression
Suivi de la progression
Suivi de la progression des tâches
Suivi des activités
Suivi des coûts
Suivi des interactions
Suivi des ressources
Suivi des étapes
Sécurité SSL
Tableau de bord d'activités
Éditeur graphique de workflow
HarmonyPSA
Alternative n° 1 à Agiloft
HarmonyPSA prend en charge l'ensemble du cycle de vie de l'entreprise, de la génération de leads au renouvellement du...
Freshservice
Alternative n° 2 à Agiloft
Freshservice est un centre de service ITIL en ligne doté de fonctionnalités de cas d'assistance et de gestion des...
Odoo
Alternative n° 3 à Agiloft
Odoo est une suite d'applications professionnelles en open source entièrement intégrée et personnalisable. La plupart...
Alloy Navigator
Alternative n° 4 à Agiloft
Alloy Navigator est une solution de gestion des actifs et de service IT complète qui fournit des réponses réfléchies à...
---
Vous avez déjà Agiloft ?
Les acheteurs de logiciels ont besoin de vous ! Les avis utilisateurs nous aident tous à prendre de meilleures décisions.
Donnez votre avis !
Afficher 5 avis sur 31
Secteur d'activité: Conseil en gestion
Taille de l'entreprise: 11-50 employés
Logiciel utilisé

tous les jours

pendant

6 à 12 mois

Provenance de l'avis
Note globale
Rapport qualité-prix

Simplicité d'utilisation

Support client

Probabilité de recommander le produit

9.0

/10
A fantastic product with exceptional functionality and adaptibility
Publié le 22/10/2020
You can see why Agiloft is the industry benchmark due to the extensive adaptability and...
You can see why Agiloft is the industry benchmark due to the extensive adaptability and functionality. Unless you have a proficient dedicated IT in-house support who can setup the system, you will have to invest in some time at the start along with Agiloft to customise to your liking.
I think most companies do not use even 50% of Agiloft's capabilities. Good product.
Avantages
We use and trial a lot of software for either our own use or clients. Agiloft is by far the most advanced contract management software out there.
It is more than just CMS. We liked the ability to White label it for clients either directly in-house or through the client portal managed by us. For an administrator, the functionality and customizable process and table flows are excellent. For the UI for a non-admin user, it can literally be 1,2 or 3 tasks/functions on their home page. The possibility to automate mundane, daily tasks such as daily agreements or POs can be routed through for automatic approval when they meet the criteria.
The templates and the mobile click and approve were popular features as it did not create the approval queue that previously happened with delays in notifications
The customer support is very comprehensive as is the number of videos for various bits of training. You really do feel like it's a system that has been custom designed for you but not with the same price tag.
Inconvénients
Unlike virtually all of it's competition, it is not really a drag and drop type environment in the true sense. Some of the UI screens can seem too busy/cluttered but that did not bother me.
I would say that, similar to others, you need a stakeholder to be married to this product. This means that they become familiar with the interaction with tables when new fields are setup and the permissioning.
Taille de l'entreprise: 201-500 employés
Logiciel utilisé

tous les jours

pendant

plus d'un an

Provenance de l'avis
Note globale
Rapport qualité-prix

Simplicité d'utilisation

Support client

Probabilité de recommander le produit

10.0

/10
Highly customizable and affordable system with excellent customer service
Publié le 03/03/2017
PROS: Agiloft especially excels at scalable customization, fair pricing and customer service. All...
PROS: Agiloft especially excels at scalable customization, fair pricing and customer service. All the staff I've encountered at Agiloft (not just the initial sales contact), from the implementers to the billing staff, have been responsive, friendly and helpful with a "can-do" positive attitude. They are a professional, dependable service-oriented team. Billing with Agiloft has always been very fair and transparent. The possibilities with Agiloft's system are nearly limitless. If inclined, the administrator can take on a significant amount of the maintenance and design of the system. I had no programming experience, but using the available documentation/tutorials and custom training available along with the creative ideas my implementer offered, I was able to become quite independent and save our company money while having a tailored, high performing contract system that grows with our organization's needs.

CONS: With so many possibilities for customization comes a number of decisions that need to be made. This can be time-consuming, but Agiloft offers the customer the option to make as many or as little of the design decisions as works for them. We'd much rather have the problem of too much choice than a situation where the system doesn't fit our needs enough or where the cost of having an engineer design everything in our system is prohibitively expensive. If your organization wants to handle some of the maintenance and design, there definitely can be a learning curve for the more complex aspects but also great payoff in independence and control of the direction of the system.

RECOMMENDATIONS FOR OTHER BUYERS: We had a very lengthy review process that involved intensive research. We recommend strongly considering how experienced and knowledgeable and stable the vendor is (not just who has the slickest app or tech conference booth). We also recommend noting how much the vendor listens to you during the sales process. Agiloft has been a solid industry leader since the 1990's and did not pressure or rush us to make our decision. They were patient and respectful and worked hard to understand our unique needs as a nonprofit and as a public media organization. We recommend taking time for the demos, using the free trial versions and talking to the vendors thoroughly about what is and isn't included and how they operate. We also recommend reading the PCMag review as it was comprehensive and captured what makes Agiloft different from its competitors.
Note globale
Simplicité d'utilisation

Support client
DCG Systems Experience
Publié le 05/04/2012
I would recommend Agiloft to anyone needing a fully customizable CRM with a focus on customer...
I would recommend Agiloft to anyone needing a fully customizable CRM with a focus on customer relations. the folks at Agiloft go out of their way to understand your business process and where their product would best fit in. Agiloft Customer Support is Outstanding!
Avantages
Easily Customizable to our business needs. Automatic reporting and email notifications are essential to our process.
Out of the box integration to our business structure. Create and adapt business practices to include Agiloft. We did not know what we were missing until we started creating processes with Agiloft in mind, The joke at our company is "Agiloft can do it".
Inconvénients
As a company that tracks equipment MTBF, availability and MTTR, the Graphics and Graphing packages lack the ability to do some of the hings we would like. Still need to import some data into excel for post processing.
Note globale
Simplicité d'utilisation

Support client
Best software purchase I've ever made
Publié le 16/05/2012
I don't want to sound over the top, but I have nothing but good things to say about Agiloft. As a...
I don't want to sound over the top, but I have nothing but good things to say about Agiloft. As a rapidly growing company we had many manual processes which needed to be automated. Having a system that fit our business model was important, and I went through a lot of tools before I settled on AG.
By far the strongest aspect of Agiloft is its ease of customization. Literally all customization is point and click, and within about 40 hours of our initial installation (which we did ourselves on our hardware), we had a system up and running which accomplished what I was unable to do with any other product.
Since the original implementation in October 2011, there has not been a week where I have not been rolling out AG into other areas of our business, to the point where we now track everything from sales leads to fixed assets, billing, and service in AG.
Our users have learned quickly, and have been happy to have a system that helps them do their jobs well.
Avantages
- Ease of customization - Everything is point-and-click and easy to understand. We have not had to write any code, yet we're integrated with several other mission-critical systems within our business.
- Ease of use - Even our fairly non-technical users find AG easy to pick up, and with light training are productive immediately. I attribute some of this to the user interface, but even more of it to the fact that we are able to mold the system to our business flow and terminology, so it's already familiar.
- Performance - We have a few dozen people in and out of the system all day, and rarely have any trouble. We did install on our own server, and sized it according to AG's recommendations.
- Quality - While any software product will have minor annoyances that you would like to see fixed, there are only a few of those. We have had absolutely zero bugs that have stopped us from getting the business value out of AG that we need.
- Cost - Very reasonable per-seat fees, no upcharges.
Inconvénients
This is not a con, but my only advice is to find a champion for the project internally who understands the business processes you're wanting to implement in AG, and who has the time to focus on the project. Don't be afraid to implement what you need, and then tweak over time as requests come in - you'll rarely get everything right in a first pass and you'll get the best feedback after a minimal process has been in the users' hands for a week or two.
Secteur d'activité: Télécommunications
Provenance de l'avis
Note globale
Simplicité d'utilisation

Support client

Probabilité de recommander le produit

8.0

/10
Versatile system offering easy and quick customization
Publié le 06/07/2015
Avantages
The overriding advantages of Agiloft's product/company:
1) It can be customized to do almost anything with almost no programming, and quickly: truly a system designed for users to modify. This supports living process that increases adoption rate and reduces operational errors.
2) It is possible to create and maintain the system and its customizations with a very small commitment of staffing because the customization method is very efficient and largely self-explanatory.
3) The support is excellent: failures and bugs are addressed promptly and software updates containing bug fixes are delivered much faster than industry average.
Inconvénients
1) The user interface is dated looking. This is a minor issue since the simplicity helps with the ease of configuration and does not get in the way of functionality.
2) The organization of the user interface is around data rather than process. Process needs are fully accommodated, but the data-driven approach means that processes that access more than one data type can be more difficult to implement or represent on-screen to users. However I have not come across any customization that could not be made with the system.
2) Sparse documentation. Some of the more advanced features as well as effective tuning require support or professional services even though they are not difficult to implement.
Agiloft - FAQ
Voici quelques-unes des questions fréquentes sur Agiloft.
Q. Quels sont les types de licence disponibles pour Agiloft ?
Types de licences disponibles pour Agiloft :
À partir de: 65,00 $US/mois
Type de licence: Gratuit, Abonnement
Essai gratuit: Disponible
Q. Quelles sont les principales fonctionnalités du logiciel Agiloft ?
Nous n'avons pas d'informations sur les fonctionnalités de Agiloft.
Q. Qui utilise Agiloft ?
Utilisateurs habituels du logiciel Agiloft :
2-10, 11-50, 51-200, 201-500, 501-1 000, 1 001+
Q. Dans quelles langues Agiloft est-il disponible ?
Langues dans lesquelles Agiloft est disponible :
anglais
Q. Agiloft prend-il en charge les appareils mobiles ?
Appareils pris en charge par Agiloft :
Android (mobile), iPhone (mobile), iPad (mobile)
Q. Avec quelles applications Agiloft peut-il s'intégrer ?
Applications s'intégrant à Agiloft :
Adobe Sign, DocuSign, Dynamics 365 Business Central, Google Docs, Google Maps, LogMeIn Rescue, Microsoft 365, Microsoft Azure, Microsoft Excel, Microsoft Outlook, Microsoft Word, Okta, OneLogin, QuickBooks Online Advanced, Salesforce Sales Cloud, Xero
Q. Quelles sont les ressources d'aide disponibles pour Agiloft ?
Ressources d'aide disponibles pour Agiloft :
Service client/e-mail, FAQ/forums, Base de connaissances, Support téléphonique, Chat
Catégories connexes
Consultez toutes les catégories de logiciels trouvées pour Agiloft.