Rosy - Présentation
Description du logiciel Rosy
Rosy est une solution web de gestion de salons et de spas développée par le développeur Floydware basé dans l'Illinois. Il s'adresse principalement aux petits et moyens propriétaires de salons et de spas aux États-Unis, au Canada, en Australie et en Europe. Parmi ses clients figurent Pam Fox, Nadine Salon et Salon L.
Rosy est une solution multifonctionnelle permettant aux clients professionnels de prendre des rendez-vous via le site web ou la page Facebook du salon. Les propriétaires de salon peuvent créer des créneaux horaires et permettre à leurs clients de réserver leur logement à leur convenance. La solution génère des alertes automatiques lorsqu'un rendez-vous est pris par un client, en envoyant des alertes de confirmation au personnel et au client par e-mail et SMS.
Rosy prend en charge l'intégration de Facebook dans laquelle les propriétaires de salon peuvent promouvoir des événements spéciaux et des forfaits pour les clients directement depuis leur page Facebook et communiquer avec leur public en ligne de manière plus efficace. La solution prend en charge l'accès web mobile qui permet aux propriétaires de salon d'afficher et de gérer les rendez-vous directement à partir de leurs smartphones et tablettes. Rosy comprend plus de 60 modèles de reporting prédéfinis faciles à personnaliser et prêts à être utilisés pour différents besoins de reporting.
Rosy permet également de suivre l'inventaire, en veillant à ce que les produits soient recommandés automatiquement avant qu'ils n'atteignent un niveau de stock minimum. Le service de POS (point de vente) permet de gérer des cartes-cadeaux, des tiroirs-caisses et toutes les autres transactions. La solution peut également être utilisée pour le marketing de la marque et des services. Elle prend en charge l'option de courrier électronique de masse afin que les clients puissent envoyer des e-mails promotionnels en masse aux clients en les informant des dernières offres, remises ou forfaits de groupe disponibles.
Rosy prend également en charge divers services complémentaires, notamment le traitement des cartes de crédit, l'impression des relevés, l'achat de matériel informatique, la création de sites web, etc.
Rosy - Présentation
Prix
À partir de
29,00 $US/mois
Types de licence
---
Rosy - Fonctionnalités
Disponible dans les pays suivants
États-Unis, Canada, Royaume-Uni
Médias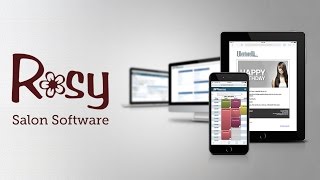 Rosy - Avis
Rosy - Avis
Simplicité d'utilisation
4,7
94%
des utilisateurs recommandent cette application
The benefits I received from this software were excellent customer service, ease of website and salon software integration, ease of credit card and salon software integration, and ease of salon software set-up. As a new user, I was very easily able to set up my business info, add employees and their schedules, and add all of my salon and retail inventory. Highly recommend!
---
Traduire avec Google Translate
---
Traduire avec Google Translate
We move back over to Rosy from Mindbody. I wish had spent more time looking at other programs. The customer service is great when you phone in for help and they always have been. For smaller businesses, maybe 5 staff and under, or sole proprietors it would be great program, but for a larger business it is too limited. Also, it would be nice to see the schedule adaptable for 10 minute increments instead of 15 so more customization to have schedule that fits the needs of your business. Also beef up the permissions, for example, the Staff are given certain permissions and we allow the staff to see each other's schedule so they can help set up for appointments accordingly, however, the staff would also like to view their tips for the day. But in the permissions for staff, you can do one or the other but not both. Why not? Finally, better reports for viewing staff productivities, I need to view 3 or more different reports to see Staff productivity. I would love to see a report that brings up all of the details for each staff member in one report only so team based pay or commission based pay could be monitored more accurately. This isn't a bad program but for me and our business, it's just OK. Hopefully Rosy can fix their IT issues so there are less interruptions. Thank you.
---
Traduire avec Google Translate
We have been able to have success with text confirmations that our clients enjoy and it has made our jobs easier
---
Traduire avec Google Translate
I am a consultant that puts companies into the cloud. My client had a different software when I started consulting for them a few years ago. We struggled with it for 2 more years, and they had it a few years before I came on board. In my work experience, I was a UI designer and application developer of online apps for Autodesk, which is the 2nd largest software company in the world, so I know my stuff. The other software was in my option one of the worst, hacked together, poorly engineered PC apps with lousy online functionality and mediocre support. My client and I had talked about changing to a new platform and migrating to a new service. I did an extensive analysis of the top 20 salon apps. I kept coming back to Rosy. We had 2 or 3 phone calls with them about migrating and I was pleasantly surprised. Their staff was nice, expertly knowledgeable, located in the US, prompt, basically everything we could ask for. We signed up for service and it only took us about a week and we were able to make the do setup, migrate all our data, implement the workflows, test everything and get all the staff fully trained in one online session. It was like a miracle. It was smooth, incredibly easy and I could not have been happier. Now my client has been using Rosy for almost a year now. It's amazing! They never call me with problems. They rarely have support questions but when they do, they call Rosy because the support is so good. Personally, I don't want my client's competition to know about Rosy, but I think every salon should use it. It's fantastic! Thanks, Rosy!!!
---
Traduire avec Google Translate
Comparatif des alternatives : note globale
Comparer avec les alternatives
Comparatif des alternatives : recommandation utilisateur
Comparer avec les alternatives
Rosy - Prix
Rosy - Prix
À partir de
29,00 $US/mois
Comparatif des alternatives : rapport qualité-prix
Comparer avec les alternatives
Rosy - Fonctionnalités
Rosy - Fonctionnalités
Base de données de clients
Notifications automatiques
Tableau de bord d'activités
Comparatif des alternatives : note sur les fonctionnalités
Comparer avec les alternatives
Catégories
Rosy - FAQ
Rosy - FAQ
Voici quelques-unes des questions fréquentes sur Rosy.
Q. Quels sont les types de licence disponibles pour Rosy ?
Types de licences disponibles pour Rosy :
À partir de: 29,00 $US/mois
Type de licence: Abonnement
Essai gratuit: Disponible
Q. Quelles sont les principales fonctionnalités du logiciel Rosy ?
Nous n'avons pas d'informations sur les fonctionnalités de Rosy.
Q. Qui utilise Rosy ?
Utilisateurs habituels du logiciel Rosy :
PME, Entreprises de taille moyenne
Q. Dans quelles langues Rosy est-il disponible ?
Langues dans lesquelles Rosy est disponible :
anglais
Q. Rosy prend-il en charge les appareils mobiles ?
Nous n'avons pas d'informations sur les appareils pris en charge par Rosy.
Q. Avec quelles applications Rosy peut-il s'intégrer ?
Applications s'intégrant à Rosy :
BirdEye, Facebook
Q. Quelles sont les ressources d'aide disponibles pour Rosy ?
Ressources d'aide disponibles pour Rosy :
FAQ, Support en ligne, Support téléphonique, Tutoriels vidéo