MyTime - Présentation
Description du logiciel MyTime
MyTime est une plateforme entièrement intégrée de prise de rendez-vous, de points de vente et d'engagement clients pour des chaînes et des franchises multi-emplacements, conçue pour aider les entreprises à développer, planifier et fidéliser leurs clients.
MyTime regroupe tous les outils dont les entreprises ont besoin : un planificateur de rendez-vous complet, un gestionnaire de relation client (CRM), l'e-mail marketing, la publicité en ligne et la gestion de présence, les points de vente, etc. MyTime est conçu pour s'adapter à toutes les tailles d'entreprise, des propriétaires uniques aux franchises nationales. Les utilisateurs peuvent accéder à MyTime sur le web ou en déplacement avec les applications iPhone et Android.
La plateforme de planification et de gestion de MyTime s'intègre également au populaire Marketplace, où des millions de clients recherchent des entreprises locales, consultent des critiques, des descriptions, des prix et effectuent des réservations en temps réel. MyTime est également partenaire de Google, Facebook, YP.com, Local.com et d'autres, ce qui permet aux entreprises de devenir plus visibles et plus faciles à trouver pour les nouveaux clients.
MyTime - Présentation
Prix
À partir de
74,00 $US/mois
Types de licence
---
MyTime - Fonctionnalités
Disponible dans les pays suivants
États-Unis
Médias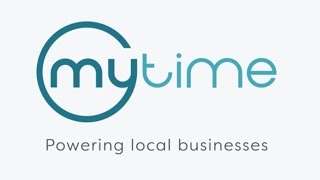 MyTime - Avis
MyTime - Avis
Simplicité d'utilisation
4,7
98%
des utilisateurs recommandent cette application
I've been with MyTime for about a month now and have been thoroughly impressed with this company. Their customer service is phenomenal! They have a quick link to send feedback on the app/software that makes it easy to either report an issue or suggest a feature. I've submitted several ideas and had a couple of glitches and have been pleasantly surprised to either receive a response by email or even a telephone call! MyTime has literally called me four or five times to discuss either my ideas or understand a small issue I'm experiencing. Who does that anymore?! I love it! I have direct phone numbers and email address to real people who answer the phone. Awesome.
I could go on forever about the customer service but I actually love the software and app as well!
App: We have tried several different scheduling software options only to find that none of them could form to what we need for our home based business or they didn't have a mobile app to use on the go. We own an on the go business with no store front so 100% of our customer interaction is in their homes or through technology. With the app we can schedule appointments and input client information, call and message clients and check out analytic info.
The software adds that much more to the software possibility. You can customize automatic, and professional looking emails/text messages to be sent as reminders or thank yous. You can ask for reviews automatically. You can check on the customers profile to see what type of communication they've received through the app. You can also schedule employees and easily manage their time.
I don't know a lot about how this works, but each time you schedule on MyTime it helps with SEO. They do stuff to help you show up better in the search engine...I don't know all the details but it sounded really good for small business trying to get their names out there :)
There's plenty more that can be said, but just experience it for yourself. You wont be disappointed!
---
Traduire avec Google Translate
Overall mostly happy we made the switch, but wish it wasn't so expensive and wish some bugs would be addressed.
---
Traduire avec Google Translate
The sales rep was extremely pushy when convincing me to subscribe to MyTime and was so confident that it would suit my needs after describing in precise detail what I needed. They should have never taken me as a client because it doesn't function well at all for what we need. I would be fine with the workarounds that were suggested to me if they worked, but they don't. Services that should be available becasue I have it set up perfectly will just randomly disappear. My clients see our marketing dollars at work and call wanting to sign up, but say that it looks like the appointments are booked up. The sales rep convinced me to sign up during my high season, promising that I wouldn't get charged until I actually started using the system. And promised that if I decided it wasn't a good solution for me, he'd have "no problem" getting me out of the contract. I started getting charged for MyTime LONG before I was ready to even begin setting it up. And I reached out to that sales rep for help, and he was no longer with the company. Not only did the MyTime staff not hold up the promises of their sales rep they employed, but they also agreed that I made a terrible mistake by believing him. The customer service is terrible and the system is glitchy. They don't care that they've cost my business thousands of dollars..... just awful.
---
Traduire avec Google Translate
---
Traduire avec Google Translate
I truly believe that my time is on my side they want to see me when and want my business to thrive. I love how the CEO will chime in to get clarity from me firsthand. #priceless
---
Traduire avec Google Translate
Comparatif des alternatives : note globale
Comparer avec les alternatives
Comparatif des alternatives : recommandation utilisateur
Comparer avec les alternatives
MyTime - Prix
MyTime - Prix
À partir de
74,00 $US/mois
Comparatif des alternatives : rapport qualité-prix
Comparer avec les alternatives
MyTime - Fonctionnalités
MyTime - Fonctionnalités
Base de données de clients
Importation et exportation de données
Intégration des médias sociaux
Notifications automatiques
Rapports personnalisables
Stratégie de marque personnalisable
Tableau de bord d'activités
Comparatif des alternatives : note sur les fonctionnalités
Comparer avec les alternatives
Catégories
MyTime - FAQ
MyTime - FAQ
Voici quelques-unes des questions fréquentes sur MyTime.
Q. Quels sont les types de licence disponibles pour MyTime ?
Types de licences disponibles pour MyTime :
À partir de: 74,00 $US/mois
Type de licence: Abonnement
Essai gratuit: Non disponible
Q. Quelles sont les principales fonctionnalités du logiciel MyTime ?
Nous n'avons pas d'informations sur les fonctionnalités de MyTime.
Q. Qui utilise MyTime ?
Utilisateurs habituels du logiciel MyTime :
PME, Grandes entreprises, Entreprises de taille moyenne
Q. Dans quelles langues MyTime est-il disponible ?
Langues dans lesquelles MyTime est disponible :
anglais
Q. MyTime prend-il en charge les appareils mobiles ?
Appareils pris en charge par MyTime :
Android, iPhone, iPad
Q. Avec quelles applications MyTime peut-il s'intégrer ?
Applications s'intégrant à MyTime :
Facebook, Google Calendar, Google Maps, Instagram, Microsoft Outlook, QuickBooks Online, QuickBooks Online Advanced
Q. Quelles sont les ressources d'aide disponibles pour MyTime ?
Ressources d'aide disponibles pour MyTime :
Support en ligne, Support téléphonique, Base de connaissances, FAQ